Week beginning April 25, 2022
Course offer of the week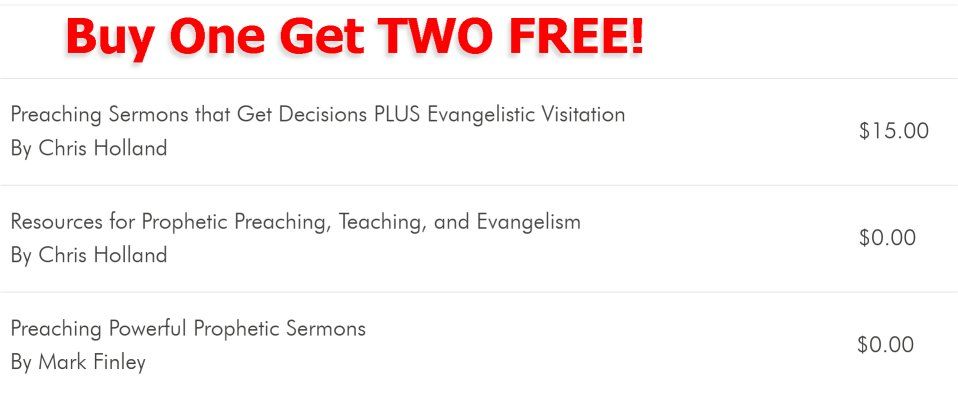 For many preachers, prophetic preaching is one of the most challenging kinds of preaching they do.
Representing a combined total of over 60 years of evangelism and preaching to audiences across the globe, Pastors Mark Finley and Chris Holland join together to teach you practical steps and strategies to approach the task of prophetic preaching with wisdom, confidence, pastoral sensitivity, and love. When you purchase Preaching Sermons that Get Decisions PLUS Evangelistic Visitation by Chris Holland, you get Preaching Powerful Prophetic Sermons by Mark Finley and Resources for Prophetic Preaching, Teaching, and Evangelism by Chris Holland for FREE!
Here's some of what you can expect to learn from these three (3) courses:
Learn 3 key points in prophetic preaching, teaching, and evangelism
Learn the unique message given to Seventh-day Adventist Christians by God
Learn seven (7) key principles to help you preach/teach/unfold the Three Angels' Messages
Learn the order of subjects, sermon titles, topics, preaching goals, and appeals when preaching the book of Revelation
Learn guiding principles in the order of subjects for prophetic preaching, teaching, and evangelism
Learn seven (7) major decisions to clear your prospects/Bible interest on during your evangelistic series
Learn how to avoid the Non-Response Syndrome
Learn three (3) essential elements that lead to a decision
Learn to distinguish between an interest and a prospect
Discover resources for Bible study, including PowerPoint slides
Get PowerPoint slides for Windows users, Keynote for Mac users, sermon notes in MS Word/PDF, and scripts for the Revelation of Hope sermon series in English, Bulgarian, Japanese, Marathi, Russian, Swahili, and Tamil
AND MUCH MORE…

Become a supporter of / partner in ministry with HopeLives365 Online International University and help keep courses like this one FREE for everyone, anywhere in the world.