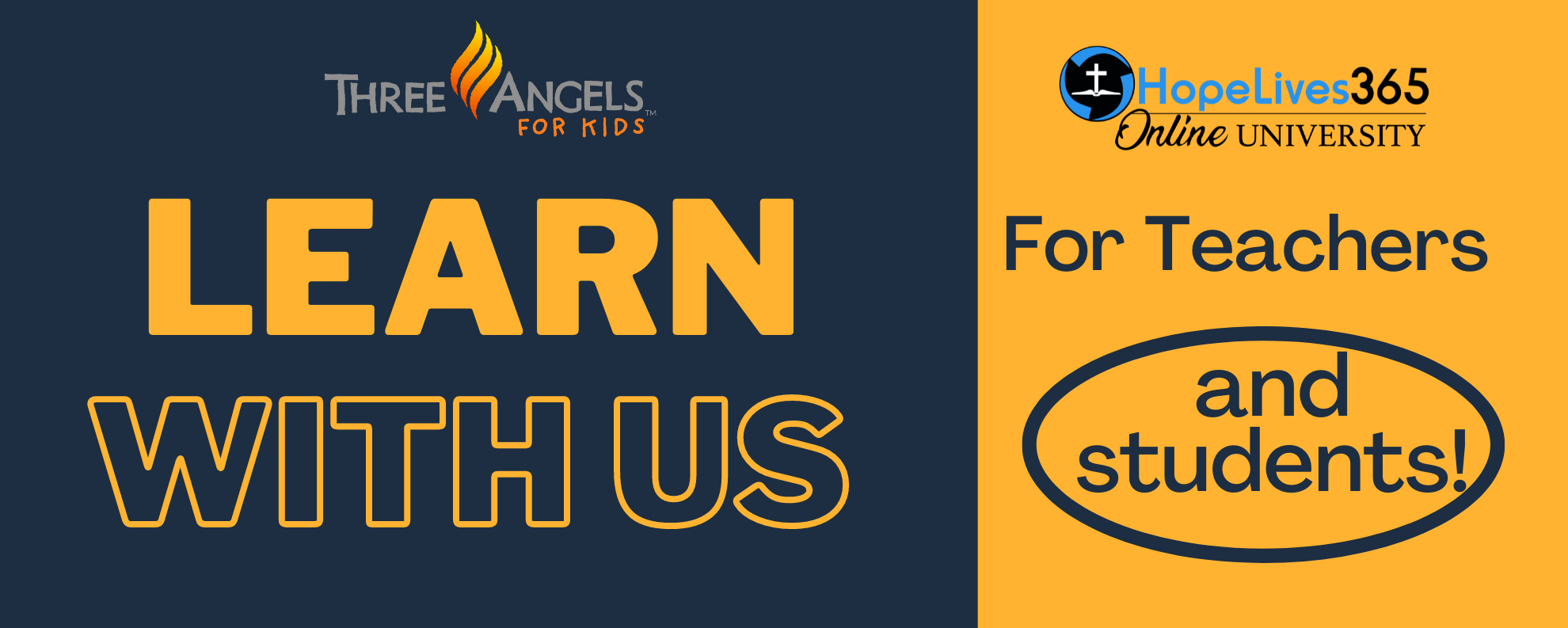 Educational, fun

Includes activities
Learn more…
Excellence through education

Resources, training (CE)
Learn more…
Welcome to HopeLives365 Online University KIDS and our newly created Education category of online courses! This is the result of a partnership between HopeLives365 Online University and Dr. Sandra Finley-Doran, Curriculum and Creative Director of Three Angels for Kids. HopeLives365 Online University KIDS goal is simple: Keep Christ in Christian education while making it fun to learn.
Now kids have a place on the Internet where they can come to grasp the joy and excitement of learning deep and important spiritual things, like the Three Angels' messages. Dr. Sandy Doran will teach kids how to draw images related to the materials she presents in her courses and lessons. Did you know that researchers and experts (Myra Fernandes, Jeffrey Wammes, and Melissa Meade) in the science of memory at the University of Waterloo discovered that people encode, retain, and recall information almost twice as much when they draw images related to what they learn? Drawing with Dr. Sandy will help kids to put things in their long-term memory, which will be important in their character development.
HopeLives365 Online University KIDS will also make inspirational material and resources available to parents of kids in school and homeschool parents. Teachers will have access to content on project-based learning and standards-based education. Teachers and parents will learn how to recognize, manage, and teach children with learning disabilities. Upon successful completion of our online courses, you'll receive a personalized digital certificate of completion and a digital badge that is recognized across the Adventist field.
We are believing that God will inspire and transform through the material on HopeLives365 Online University KIDS. We are celebrating the launch of our new Education category of courses with a Special Offer, click here to read more about it.
Read more...
S
andra Doran, Ed.D. has enjoyed working as an educator and writer within the Seventh-day Adventist Church and the larger community for more than thirty years. She is the author of seven books, hundreds of articles, and served as a columnist for the Adventist Review, Signs of the Times, and ParentTalk magazines.
Within the educational arena, she has taught on every level from pre-school through college, held top administrative roles in four schools, and worked as Associate Superintendent of Education for the Florida Conference for 15 years. Most recently, she served as founding head of North Tampa Christian Academy, creating an innovative environment for project-based learning.
Dr. Doran holds a bachelor's degree in Elementary Education from Atlantic Union College, a master's degree in religion and communication from Andrews University, and a doctorate in special education from Boston University. She currently serves as Curriculum and Creative Director of Three Angels for Kids.
"Train up a child in the way he should go and when he is old he will not depart from it." Proverbs 22:6