Columbia Union Adventist-laymen's Services & Industries (CUASI) is pleased to offer you this FREE inspirational course from HopeLives365 Online University. This course includes a FREE special digital edition of the Signs of the Times magazine on COVID-19 PLUS Mark Finley's video presentation titled, What Does the Bible Say About Global Pandemics and Plagues?
The Signs of the Times magazine, COVID-19: Facing the Crisis with Confidence, includes the following topics: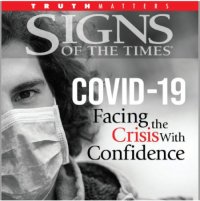 – COVID-19, Defining the Disease
– Symptoms of Coronavirus (COVID-19)
– Prevention and Immunity
– Is COVID-19 the End of the World?
– Facing the Future With Hope
– Hope in Troubled Times

Be blessed and stay safe.
Mark Brown
President
Columbia Union Adventist-laymen's Services & Industries (CUASI)