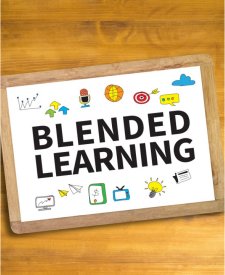 Blended Learning – An Effective Approach to Giving Bible Studies
Understand the blended learning approach to teaching, its proven benefits, and how it can be applied to giving Bible studies.
– Taught by Chris Sealey
What Will I Learn?
The meaning of the term blended learning
Understand the essentials of a blended learning approach to teaching
The benefits of a blended learning approach to teaching
Results from research, conducted by the US Department of Education, contrasting face-to-face instruction and a blending learning approach
How Paul's model of teaching the New Testament churches compares to the blended learning approach to teaching
How Bible Instructors can adopt a blended learning approach to Bible study and increase student engagement, retention of key concepts and decisions for Christ.
The three components required to apply a blended learning approach when teaching Bible study lessons
NOTE: At the conclusion of the lesson students are required to take a short-quiz to test their understanding of the material presented. A score of 70% or higher is required to pass the lesson.
Read More
Christopher N. Sealey has a passion for ministry. The focus of his ministry is teaching the principles of Christian living. He is a dynamic speaker, published author and has a wonderful ability to inform and inspire audiences. His ministry has resulted in bringing others to accept Christ as Lord and Savior, and many more to establish a deeper relationship with Christ.
In the corporate world, Chris is highly regarded as an experienced, award winning, Information Technology Management professional. He is consistently recognized and tasked to improve organizational efficiency with comprehensive business and Information Technology expertise in strategy, analysis, research, requirements gathering, agile development, and operational support. He has over 15-years of experience in the e-learning industry, and the application of technology to online education. This course leverages his extensive e-learning experience to teach the application of the highly effective blended-learning approach to the teaching of Bible study lessons.
He holds a Bachelor of Engineering degree in Electrical Engineering (City College, City University of New York) and a Master of Engineering degree from Rochester Institute of Technology.
HopeLives365 Online University
Average rating:
0 reviews